Electric Motors
With one of the largest on-site inventories of premium efficiency motors in the South Puget Sound area, Center Electric is fully capable of meeting your electric motor needs. We carry a large inventory of three phase motors (up to 100 hp). Single phase stock includes a wide range of Leeson motors up to 5 hp. Permanent magnet DC motors and controllers up to 3 hp are also a part of our regular stock.
We are capable of supplying a wide range of additional motor types, from vertical motors to special types of horizontal motors. In addition, we maintain the capacity to provide in-house modification of motors for special applications.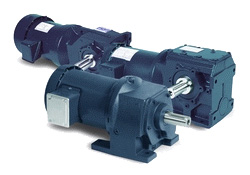 Speed Reducers
Center Electric also maintains in-house stock on a large variety of right angle and parallel shaft speed reducers. This stock includes a wide range of Rexnord and Emerson Power Transmission gear products, such as the SP3 line of parallel shaft gear motors, which feature class 12 gearing and rugged construction for quiet, reliable operation.
Looking for Something Else?
Please feel free to contact us with your product needs. We'll do everything we can to help you find what you are looking for.